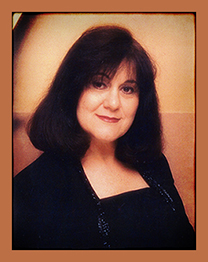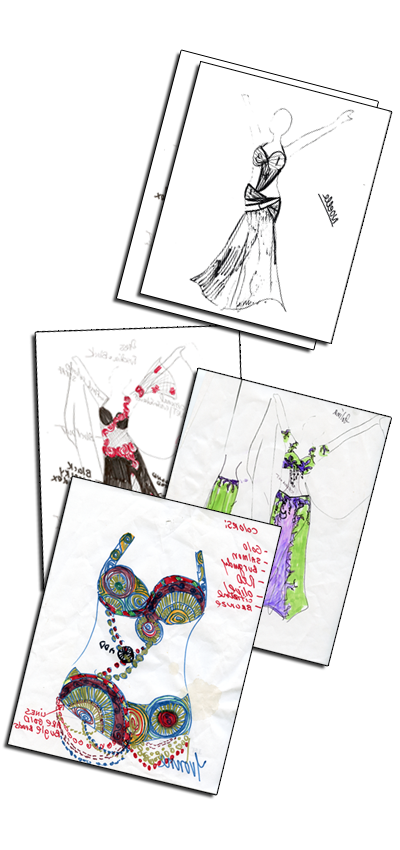 Shadia makes you look amazing. I get the most compliments when I wear my Shadias. Other dancers even ask me for 'first dibs' if I decide to sell them. She knows how to flatter any body, and will guide you to the styles that suit your silhouette and coloring. She also knows how to accommodate a large bust. My commercial costumes pull on my neck, but my Shadias are comfortable, supportive and secure.
Shadia has an incredible eye for design. Whether you bring her a vague concept or a specific idea, the final costume comes out more beautiful than you imagined. And you won't look like anyone else. Instead of slapping some beadwork onto standard designs, Shadia uses special materials and carefully-composed design elements to create a unique look just for you.
Nadira Jamal, Boston, MA
Meet Shadia
Shadia (Christine Mirson-Tohme) has designed costumes for the stage since the early 1970s. Using the skills and experiences she gained as a professional dancer, Shadia knows what it takes to make a dancer look fabulous!
Education
Shadia studied pattern drafting, garment construction, tailoring, and, of particular note, costuming for the stage at the New England School of Art and Design. She worked at Monet Haute Couturier as an apprentice beader, a position that would prove incredibly useful in her future career as a costume designer.
Couture for Middle Eastern and Folk Dance
In 1975 Shadia began creating couture, one-of-a-kind costumes for Middle Eastern cabaret and folk dancers. Her talent for creating glamorous and flattering designs quickly earned her a devoted international client base. It includes the prominent dancers Nourhan Sharif, Dalia Carella, Azziza Salem of Chicago, Katia of Boston, Nadirah Johara of Texas, Tina Enheduanna of California, Najmat of Boston, and Aurel of Ancient Arts Studios in Massachusetts.
Costuming for Dance Productions
In addition to designing for individuals, Shadia has also worked extensively with troupes and large productions. She spent six years as the costume designer and wardrobe mistress for the Tony Williams Dance Center's Urban Nutcracker, working closely with the set and costume designer Rebecca Cross of Washington, D.C.
Shadia's designs have been featured in productions at the New England Aquarium and by troupes such as Baalbeck Folklorique, the Cedars Troupe, and Rakset Jabaliye.
Ballroom, Flamenco, Wedding
Shadia has expanded her offerings to include costumes for ballroom, flamenco, beading for wedding gowns, and various cultural dances. Shadia's designs are often available at Great Eastern Trading Company in Cambridge, Massachusetts.
To commission an original couture costume, please e-mail Shadia at shadiabead@gmail.com.